Fitterpaws Pet Products helps fund much-needed surgery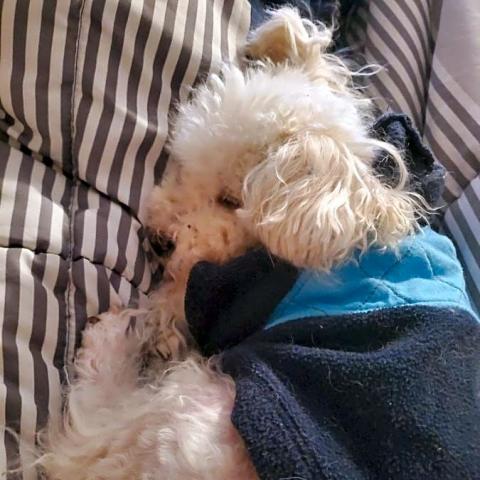 Saint Petersburg, United States – May 10, 2022 —
FitterPaws Pet Products is pleased to announce that the company, in conjunction with other pet lovers, has financially assisted in covering the surgical removal of 15 stones from Jaces' bladder.
"Jace is the most important thing for the owner and constant companion," said Lee, Jaces' companion and owner. "Lee often finds himself talking to Jace and half-expects Jace to respond. Jace sleeps in bed with Lee every night, snuggled up against his back," Lee said. A few years ago, Lee started having health issues. Requiring neck surgery and more recently multiple back surgeries. "Lee has been on disability since these issues started to arise, and over the past five years Jace and Lee have become surprisingly even closer. After each operation, Jace was right next to Lees, giving kisses and making sure everything was okay," Lee says.
Jace was diagnosed with 15 stones in his bladder ranging in size from small to surprisingly large which had to be surgically removed. Jace also had a growth on his spine, so it had to be removed," Lee says. Struggling to pay for all of Jace's medical care, Lee had no choice but to seek help. "Being on disability has been very difficult," says Lee. "Especially financially;" Lee is barely able to live paycheck to paycheck. "Jace never gave up on Lee, and Lee will never give up on Jace in return. A pet's unconditional love cannot be matched. said Lee.
This latest support is in line with our mission to give back. FitterPaws is dedicated to raising awareness and supporting shelters and sick dogs in need. Especially shelters and owners who need help covering expensive medical procedures.
About Us
Fitter Paws Pet Products supplies and distributes premium quality dog ​​chews and treats. All of our products are human grade, organic, vegan with non-GMO ingredients. The health of each animal is the most important concern at FitterPaws.
Contact
Stephen Taub
Contact information:
Name: Ivan Cavric
E-mail: Send an email
Organization: FitterPaws Pet Products
Address: 7901 4th Street North #STE 300, St. Petersburg, Florida 33702, USA
Website: http://www.fitterpaws.com
Build ID: 89074708
If you detect any problems, problems or errors in the content of this press release, please contact [email protected] to let us know. We will respond and rectify the situation within the next 8 hours.
COMTEX_406958312/2773/2022-05-10T03:56:57